EPWP
Objective
To manage the implementation of programmes and strategies that lead to the development and empowerment of communities and contractors. This includes the provincial management and co-ordination of the Expanded Public Works Programme
This programme includes the management and co-ordination expenditure on the Expanded Public Works Programme.
Rooting out the dust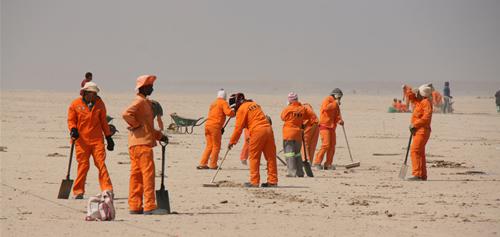 The Programme entails targeting towns in all the municipalities in the Northern Cape Province.
Usually these projects range from:
Drainage Cleaning and Vegetation Control along Road Reserves; Upgrading of Access Roads; Manufacturing of Kerb Stones; School Refurbishment Programme; Vegetation Control; Installation of Road Signs; Cleaning of Towns

Wind and rain use to cause dusty and muddy streets, but with the interlocking paving for residents it now is something of the past. The paving of internal streets of Klipfontein started during August 2010 as an initiative of the Kamiesberg Municipality. During 2011 the Department of Roads and Public Works took over the project. The project was recently completed during December 2012.

The main street and several side streets have been paved at an estimated cost of R4.4 million. The Department of Roads and Public Works took over the project in order to improve the technical management of the project and also to ensure escalated progress on site.

The project created job opportunities for 54 beneficiaries with most of them being women and youth. The lives of these people were positively affected as some of them are single parents who also had an income. Klipfontein residents can now be proud of their streets and of their community.

Government by means of the implementation of EPWP once again assisted municipalities, created a basic income for the poor and jobless.

MEC Dawid Rooi announced in his 2011/12 Budget Speech that the department plans to upgrade the Hondeklip Bay which links with the N7. The department has already appointed Engineers for the design of the road. The estimated cost of the road amounts to R240 million. It is anticipated that the project would create 75 job opportunities.